Two Simple Ways To Use Multiple WhatsApp Accounts On One Phone
It is always good to have multiple numbers and have them all on WhatsApp without using multiple smartphones. Well, most of us use to try until it happened that all apps on our phone can only be installed once.
That means you can't have multiple apps on the same phone. WhatsApp itself doesn't work like Gmail which gives you the option to add multiple accounts. That leaves us no choice but to only use one WhatsApp account per phone.
Well, there are ways to use multiple WhatsApp accounts on one phone. Follow my steps below.
Adding WhatsApp Business
There is WhatsApp Messenger which is the normal WhatsApp we are used to. When you install that, automatically you will have only one WhatsApp account with it.
If you download WhatsApp Business, you have the option of adding another WhatsApp account to the already existing WhatsApp Messenger account.
In all, if you have both WhatsApp Messenger and WhatsApp Business installed, you have two different WhatsApp Accounts.
Using A Cloning App
There is also another way you can add multiple WhatsApp accounts. You can easily clone your existing WhatsApp Messenger and register with a different number.
All you have to do is head to the play store and download "Parallel Space". Check the icons below.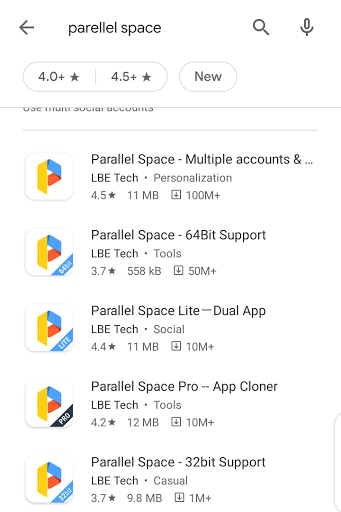 You can easily clone your WhatsApp Messenger or any other app on your phone with this app. If you clone both your WhatsApp Messenger and WhatsApp Business, you will end up having four WhatsApp accounts.
This is the best way to own multiple WhatsApp accounts without buying a new phone.
If you have any questions or suggestions, kindly leave a comment below.